Taking over the leading position in the 2016 Keeneland September Yearling sale is Hip 399, a colt by leading sire Tapit out of graded stakes winner Hooh Why (Cloud Hopping). Hooh Why won Keeneland's 2009 Ashland (G1) during her 54-race career in which she won 12 times and earned $1,244,809. Consigned by Baccari Bloodstock, the colt hammered for $1.2 million to J.J. Crupi, topping yesterday's highest-priced colt at $1 million.
"The mare was a really good racehorse herself, and physically he's a very special Tapit," Chris Baccari of Baccari Bloodstock said.
"He has a beautiful body and a big walk," J.J. Crupi said after signing the ticket for the colt. "We weren't leaving here without him. I fell in love with him when I saw him come out of his stall. I thought he was gorgeous."
Crupi said the yearling will be broken in Florida at New Castle Farm and probably would join trainer Todd Pletcher.
The story of the afternoon was the non-sale of the first colt out of Horse of the Year Havre de Grace. Consigned by Mr. and Mrs. T. Wayne Sweezey's Timber Town, the War Front colt (Hip 383) was bred by Mandy Pope. Bidding was initially quick on the smart-looking bay, but stalled out suddenly at $1.9 million and did not go any higher.
The colt was originally listed as an RNA, but in a statement to the press Pope explained that there was an error in entering the reserve price, and that she initially believed that the colt had been sold when he exited the ring. She announced that he is still for sale privately. More details available here.
Overall, the second session sold 119 yearlings for $37,959,000, a decline of 12 percent from the 142 sold for $42,965,000 in the second session in 2015. Both this year's average and median prices were up from the comparable session in 2015, with the average up five percent to $318,983 from $302,570 and the median up 18 percent to $290,000 from $245,000.
"In addition to the $1.2 million session topper, today we had 25 yearlings that sold in the $500,000 to $900,000 range compared to 18 during last year's second session," Keeneland Director of Sales Operations Geoffrey Russell said. "There is great strength at that level, and it is nice to see.
"We have a healthy market," he continued. "We have a diversity of buyers. The buying bench is deep and spread out between international and domestic participants. That is very positive."
The buyback rate for the second session finished at 31 percent, a bit better than the same session last year, at 32 percent.
The leading sire by both gross and average (three or more yearlings sold) was Tapit. Taylor Made was the second session's leading consignor by gross, with Baccari Bloodstock leading the session by average. The leading buyer by both gross and average (three or more yearlings purchased) was Shadwell.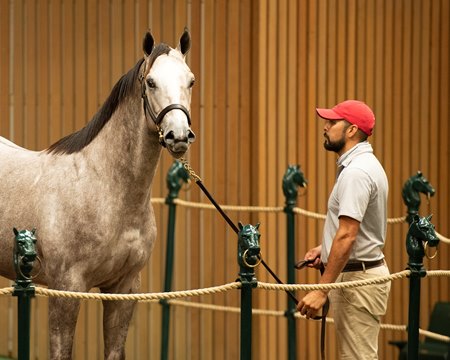 ust behind the leading seller of the second session came a pair of Brereton Jones/Airdrie consignees to sell for $900,000 each. The first is the first foal out of Kentucky Oaks winner Believe You Can (Proud Citizen), sired by Tapit. Consigned by Airdrie as Hip 207, the colt hammered for $900,000 to William Mack and Robert Baker, members of the partnership who raced Proud Citizen to run second in the Kentucky Derby and third in the Preakness.
"We are having a very fun Tuesday," Jones' son, Bret, said. "We sold two colts that we always thought were exceptional. Coming to the sale and getting (that belief) justified is an awful lot of fun. Both colts were raised on our farm and were out in the same field running against each other every day and getting competitive. Everyone at the farm did an amazing job. Richard Royster, our yearling manager, had them looking great. Everything came together at the right time. When they're bred like that, you always have high hopes."
"Tapit is a great sire, and this is a great-looking animal," Mack said about their purchase. "We hope for the best."
"I couldn't be any happier," said Brereton Jones, who bred and raced Believe You Can. "That is what we are trying to do: breed those kind of horses. From the very beginning, we knew he was special. I have always liked him."
Tying that colt later in the session was another Airdrie consignee, Hip 305. The War Front colt out of Don't Trick Her, by Mazel Trick, is a half-sibling to G1 winners Include Me Out and Check the Label. He also hammered for $900,000 to Shadai Farm.
Asked about what he liked about the colt, Teruya Yoshida said, "Nice conformation and very good pedigree, everything. War Front is a very successful sire. (The colt) had a very good, smooth body and nice conformation."
He added that the colt would be sent to Japan.
Sold to Sheikh Hamdan bin Rashid Al Maktoum's Shadwell Estate Co. Ltd. for $800,000, the session's fourth-highest priced horse was a filly by Speightstown consigned by Paramount Sales, agent for Sierra Farm. She is out of the Grade 2-placed winner General Consensus, by Giant's Causeway.
On Monday, Keeneland sold 108 yearlings for a gross of $34,531,000, down 22.65 percent from the opening session in 2015 when 150 horses sold for $44,642,000. The session average increased 7.43 percent from $297,613 to $319,731, while the median price of $267,500 was up slightly over last year's $265,000.
An overall comparison of the first two sessions saw a 17 percent decline in gross sales from the sale period in 2016. However, overall averages and median prices trended up, six and 12 percent respectively.